Enjoy a breathtaking view with the Columbus Variant from Autohome
The Columbus Variant roof tent is unique. The reasons for this are obvious:
The roof tent is set up in seconds. Simply open the buckle and, thanks to the robust gas struts, the tent opens immediately.
As you can see from the pictures, the Autohome roof tent promises a great view thanks to the large window. So if you want to watch the stars at night, you can enjoy this at any time with the Columbus Variant. All windows are equipped with practical mosquito nets. These are also very tightly sewn and black, so that it provides privacy. Another advantage of the Columbus Variant is the height of 150cm, so that you can sit upright comfortably in the roof tent. The two gas pressure springs can be fixed in case of strong wind. All windows and doors can be opened completely. The large window gives you many options. You can roll up the window completely or only halfway. Furthermore, the window can also be opened from the top to the bottom, so that further privacy is provided. The integrated awning can be set up in a flash. Simply remove the poles located under the mattress and integrate them. The awning is equipped with a window and ventilation. There are many accessories for the roof tent, such as a thermal bonnet or a sun awning. You can find these in the accessories category
Small:
130x210cm (52Kg)
X-Long 130x230cm (64Kg)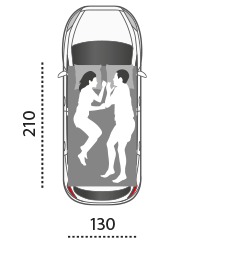 Medium:
145x210cm (65Kg)
X-Long 145x230cm (71Kg)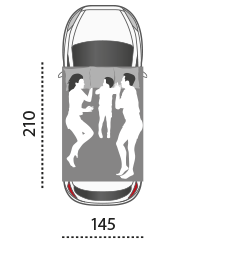 Large: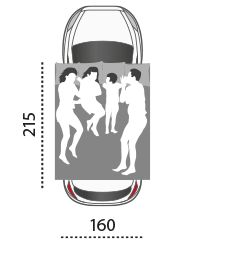 X-Large: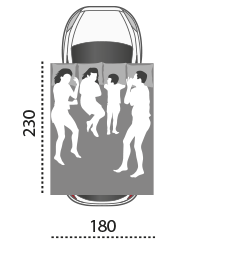 The roof tent is open within seconds. You just unlock one buckle and the gas struts do the rest.
Insulated roof a unique innovation
The headlining of the Columbus Estate is a multi-layer insulation. The integrated air cushion and the insulating foam layer provide excellent noise protection in rain or hail. The insulation also provides thermal protection and reduces the formation of condensation.
The sun awning already integrated
A great extra is the already integrated sun awning. The aluminium poles are ready under the mattress to set up the awning. This gives you additional privacy and protection from the sun at the same time.
TÜV tested for more safety
All Autohome roof tents are TÜV tested, underlining the remarkable Made in Italy quality.
Great accessories like a lockable buckle
The Columbus Variant offers many accessories. The lockable buckle can be purchased as an option and is installed in just a few steps. So you can always lock your roof tent securely.
Many possibilities to use the large window!
Scope of delivery:
Autohome roof tent Columbus Variant
LED interior lighting battery-operated
4x universal clips for fastening to the roof rack
Aluminium ladder foldable for vehicles up to 190 cm height lower edge of roof tent
2x entrances with mosquito net on the side
Large entrance with mosquito net at the rear with graduated blind and window
Practical elastic storage net inside the roof lining
Foam mattress with cover
2,3 or 4x cushions with covers (cotton)
Carrying bag for the ladder